Its has been some time since I last posted anything…but fear not, an event has happened and here is a long detailed report of it, from when I arrived in Miri till the final day of the camp.
Curtin University of Technology, Sarawak campus recently held 'Curtin Camp 2005'. Where 120 students from various secondary schools throughout the whole of Miri City will stay on campus in army tents for the duration of 3 days and 2 nights starting from the 8th July 05' until the 10th July 05'. Schools that took part were
SMK Chung Hua
,
SMK St. Columba
,
SMK Lutong, SMK Baru, SMK Dato Permaisuri, SMK Teknik
and
Kolej TDTH Bujang
. The theme of this outdoor camp is "
Lifelong Learning, Learning For Life
", where we hope that these students will discover and walk away with the knowledge of their respectful strength and weakness and hopefully that they will understand that learning is a lifelong process.
My story began after my final exam for the semester ended and
Abel
(PR officer of Curtin, Sarawak and Advisor for Curtin Volunteers!, Miri and the Chairperson of the Curtin Camp 05') ask me to join the up coming Curtin Camp 05' as a mentor. Naturally I have to ask my parents as they want me to spend my holidays back in Brunei, eventually they agreed.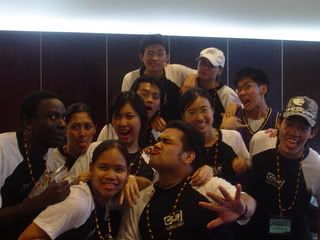 *Fast forwards*
Tuesday, 5th July 05'
Our first meeting was on the 5th of July 05' on campus. There I got to meet the other fellow mentors.
Zack
- CV! Exco,
Melanie
- CV!A,
Roger
- CV!A,
Wisdom
,
Pamela
,
Hiew
,
Kimberly
,
GT
(Guan Thai),
Cheryl
(Xiao Huan),
Genesis
, and
Oscar
(he pulled out, some really weak reason). A majority of the mentors are in the foundation program as the degrees students were on holiday after the final exams. Only a hand full was degrees students (
Roger, GT
and I). Got to discuss all the details what we, the mentors, were about and what we were assigned to do throughout the duration of the camp. Each of the mentors were given a group of 12 student which consist of different schools to look after and manage (their children):
Zack
- Monkeys,
Melanie
- Cows,
Roger
- Kangaroos,
Wisdom
- Dogs,
Pamela
- Cats,
Hiew
- Ducks,
Kimberly
- Snakes,
GT
- Elephants,
Cheryl
- Penguins, and
Genesis
– Lions. I was wondering why I was not assigned a group. To my horror I was nominated as 'Head Mentor' by
Abel
and that the group that I assigned to was all the other mentors and their respected groups…
Zack
was the 'Assistant Head Mentor' and by right he was not assigned to a group until
Oscar
pulled out.
Wednesday, 6th July 05'
When evening came it was time for the mentors training and planning for what the 120 students were going to do during their free time and how we could push them to meet with our deadlines as our schedule were packed up to the minute! We manage to fit in fun events into the tight schedule that were planned by the Chairperson (
Abel
) and the camp facilitators (top selected lectures of Curtin, Miri). "Mentors are the life of the camp, you make this camp it alive…" as Abel when through the training, "be contagious, be the catalyst to make it fun and happening!" Later that night we also when through dancing class, where the others learned the dance steps to 'jungle song'… "Aa-wimbo-wap, aa-wimbo-wap" and 'lean on me' song (rap edit)...
Reminiscing: Pamela hurrying to grab the dancers hands on each side before the bow…He he he…such sweet memories
.
Thursday, 7th July 05'
The following day, morning was not particularly good for me, as I was off to run some personal errands my car broke down just 15 minutes after I left my house at Senadin…later I found out that my water pump gave-in. Luckily
Lester
, a local friend whose father owned a 4X4 workshop, came after I made a call of distressed to him and he helped me identify what was the problem. Got a tow truck company contact and got them to come and pick me and my Green RR then send us both (RR and myself) back to my place (Thank you very much
Lester
, much appreciated). The rest of the day went with a blur. In the evening, more planning. End the meeting with the practice of the dance steps. All of us were feeling excited for the following day…Day 1 of Curtin Camp 05'.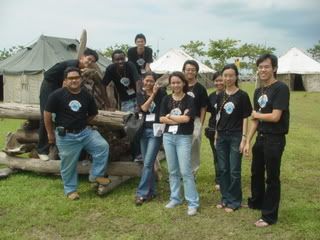 Friday, 8th July 05' – Day 1

Students started arriving on campus around 1.30pm, first up was pre-registration (will explain in detail later on) of the participants to collect their name tags, Camp kit, and t-shirts at the Lecture Theatre (LT). Once majority of the students were pre-registered
Abel
gave a short briefing on what was expected of this camp and went through a summarized version of the sequence of events for the next 3 days. Then we moved to the front portion (main entrance) of campus where the gates to the camps were situated for the official opening of Curtin Camp 05', officiated by Curtin Sarawak newly appointed Dean,
Professor Ruth Marquis
.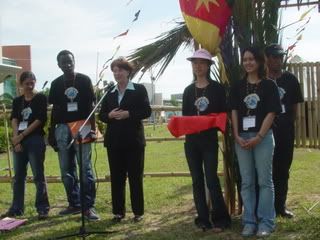 The fun begins!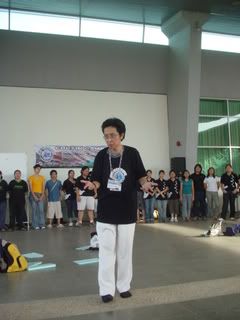 A tea break was called for and after that we then proceeded back to the LT foyer, for the first of 7 sessions. First up was
Cikgu Sham
, where she explained in more detail about what the camp is about, rules that were set by the students, and what was expected of the students once the students approved their own made set rules, their individual group assignment and concert presentation. She then mentioned that at the beginning when they first registered it was just the pre-registration, the real registration is when they have digested their (students) rule that they have set for them self and decided to stay on or not. Where we, the camp facilitators and mentors, do not force the students to stay for the camp, it was their own choice if they wanted to stay or leave the camp…none of the students left. After that was settled the registered students got into their respected groups and made their way to settle down into their tents; girls and boys in their own respected tents. Once settled, it was time for them to take their shower at the hostel and have their dinner. The shower arrangement was a disaster… As there were only 42 showers and toilet for the boys and 40 showers and toilet for the girls we had to come out with showering schedule… when the time came we followed as we have planned earlier how the showering schedule should be, it did not play out to how we pictured it in our minds…inefficient. We abolished the showering schedule and went with first come first served, and again girl and boys in separate blocks. Majority of the mentors enjoyed pressing the students to finish early…right
Gen
. Then it was dinner and on to the next session (session 2), then lights out at 11pm. Funny enough but not surprising, majority of the students were still up and about till 3am playing guitar singing songs, playing card games and chatting before turning in for the night…but some did stay up the whole night as it was apparent in during the second day session.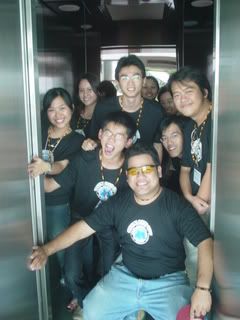 Saturday, 9th July 05' – Day 2

The day started with the wakening of the participants at 5.40am…
Caption: morning exercise
Before that, a slight detour, when I and the other mentors got up, the others left to go to take their shower,
Roger
and I were left in the VIP room where we stayed for the night.
Roger
was behind the bar where we put our bags…as I just entered the bar to get ready my toiletries I saw
Roger
turn and looked left said "Ohhh!", turn and looked right "Ohhh!" …*
Pruuuuuuut!
* turn left "Ohhh!" turn right "Ohhh!"… Ha ha ha…Sorry
Roger
I had to tell it, it's too much of a good chance not to…
6.40am they were off to the showers then breakfast. And by 8.45am they all have to be in the LT for mentors' morning energizers (the jungle song dance) and the third session. Lunch came, and all the mentors were sitting around one table, and
Kimberly
did the cutest thing…she had a small sausage left on her plate, she tried to pick up the last bit of sausage with her fork but it slipped off her plate. She just looked at the fallen sausage dropped her fork, and pretend to cried like a child, *
Wahhhh
* Ha ha ha. The day progressed and soon I found myself at the end of the sixth session…Here the fun games began, 6 games to go through and complete, and try collect as many points for their respected groups. Time was approximately 4pm.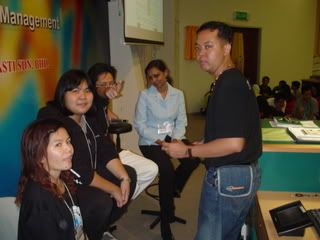 Game 1
: Hair band head; was where the group had to tie rubber band onto the hairs of each group member as fast as possible in the time frame of 5 minutes and leave it there till the end of the day, later on the mentors will count how many rubber bands each group had. They just look absolutely ridiculous!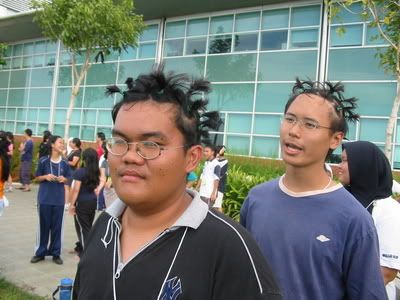 Game 2
: Dizzy run. As the name implies, every student in each group in turn has to bend down and touch the ground and spin 5 times, then run to a bucket filled with water 6 meters away, collect the water in their hands and run to a empty water bottle 5 meters away and try to fill it as much as possible in 5 minutes…the results wad hilarious! Some even when to the wrong bottle… ha ha ha! Guess it was not wise to have them had their tea before the games…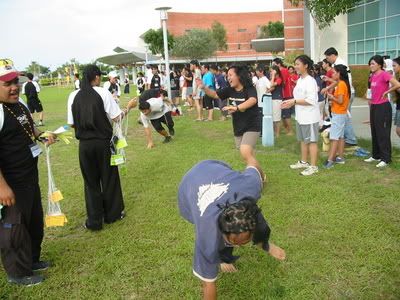 Game 3
: Zigzag; this is where the groups get into one line and pass a water-balloon over head backwards. The person at the end of the line will have to zigzag between the groups members until he or she get to the end and restart the processes over again as much as possible with in the duration of 5 minutes.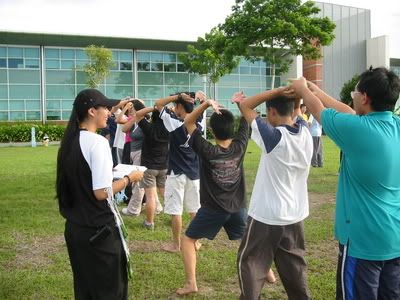 Game 4
: 12 legged race; as the name implies, 6 students (3 boy and 3 girls) tie their ankles together and try get to the other side in the shortest time possible… team lion did amazingly…such team work and coordination from each group member...for lack of better words … WOW! The other groups…well it was fun to watch them struggle…he he he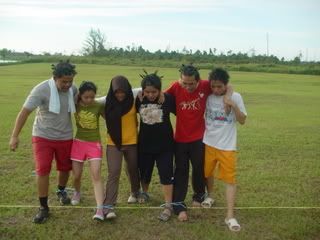 Game 5
: Pass the rubber band. Here the group had to get in line and wit no aid of both hands, only a straw in their mouth to past down a rubber band down the line and the person at the end has to do the Curtin clap (clap, clap, clap, pause, clap - pause, clap – pause, clap, shout "HO") this goes back and forward for 5 minutes…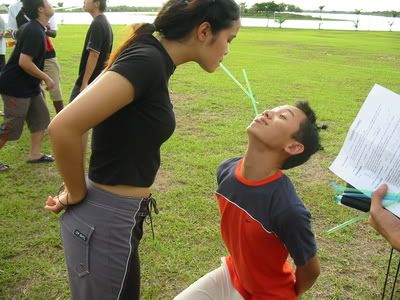 Game 6 (final)
: Tug of War; each group leader had to draw for a position and tug against the other groups. One knock system. Final winners were the Kangaroo group. The finalist was supposed to go against the mentor, but as we were short of time we cancelled it…how sad.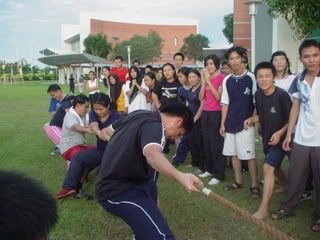 When all the games ended well all had our showers and prepared for the BBQ and concert night, this was about 8.15pm. The group presentations were all good and a lot of the groups had talented people in them. A good combination of acting, singing, and dancing. During that time dinner was severed, hmmm chicken wings and sausages. We also had our own presentation… we did our dance the 'jungle song', 'lean on me' song and 'just a little bit more' by Janet Jackson.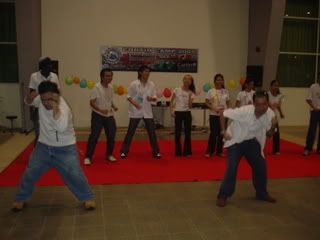 After all the presentation was done, we all had our own clubbing area…literally 'dance fever!' at the LT foyer. Even the quietest of people came on the make shift dance floor and shook their booty! To my surprise I jived with a girl whom I believe to be reserved…boy was I wrong… *grin*
All ended roughly around 12.30am. Same as the night before a lot of students were still up walking around. Majority were still doing their assignments, just starting or doing the final touches. By 3am many were sleeping all over the campus…and not in their tents.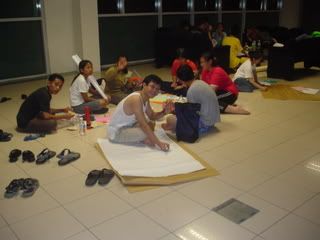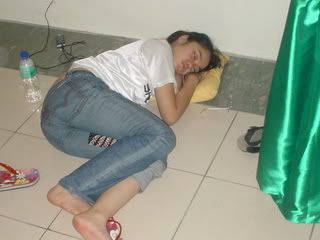 Sunday, 10th July 05' – Day 3(Final)
Got up at 5.15am, had our shower, got dressed and when down to wake the students for the morning exercise. But instead of the normal almost one hour of exercise, half an hour was dedicated to warm-ups and short exercise and the rest of the remaining time was to the Treasure Hunt. Allocated time for the treasure hunt was 1 hour…One of our goals of the treasure hunt was to see if they actually paid attention to the places that they, the students, have been too from the previous seminars and remember the grounds of Curtin University. The other, more sinister, goal was to see them squirm with the difficulties of the questions and clues thought up by the mentors that were in incharge…As it was early in the morning, we saw students' esp. girls in there pj's running around look for clues and trying to answer the clues. One girl in particular that I remember seeing was in her pj's dragging her feet and a dazed look on her face…poor thing…But to my amazement most of the student were sharp and got the answers in no time. All ended well and then they were off to have they much wanted shower and breakfast. By 9am they had their last session (session 7) where some shared what they have learned benefited and out comes for the past 3 days.
Then time came to for the students to present their assignment which was to create a product in the year 2010, and market it. Each group was given materials, namely a bunch of drinking straws, 2 manila paper, glue, 3 marker pens, 2 pencils and majong 2 papers that they have to create the product and draw the marketing scheme. There to judge the presentation were Abel,
Ms. Azlin
and
Ms. Anita
which were based on how creative the product is, how realistic the product is, the way the group presented and market their product. Overall I was impressed how creative and needed some of the products in today's society like the E-bin, where even non-biodegradable materials are able to be disposed of safely. But there were a few way out there products, just bizarre…the V-ball; a remote control vacuum cleaner and of straws, the hand phone – PG2010; pencil case size hand phone where the owner uses a pen looking device as the receiver and microphone, and last but not least the top of the freaky-O-meter of all gadgets is the Coco spy cam. This product looks like a coconut that has a surveillance camera built into it…it is able to open in half and sprout legs to follow the perpetrator (whom, during the presentation example seems to be like a drunk crab…) Freaky thought isn't …Ooo get this, when purchased it comes with an artificial coconut tree…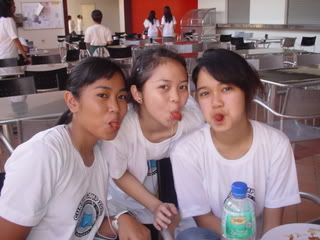 Lunch came and went. Next was the 'Curtin R US' presentation by the marketing department. Then onto questions and answer session with the camp facilitators, I can't mention on the juicy questions that when on during this session or else some lectures will literally skin me alive…
The last event for the day was the closing ceremony, where the guest of honour was our newly appointed Dean of Curtin Sarawak,
Professor Ruth Marquis
. To officiate the closing ceremony, we (mentors) did the jungle song dance. To
Abel
and our surprise
Professor Ruth Marquis
requested to join in for the jungle song dance…and my I say she kept up marvellously.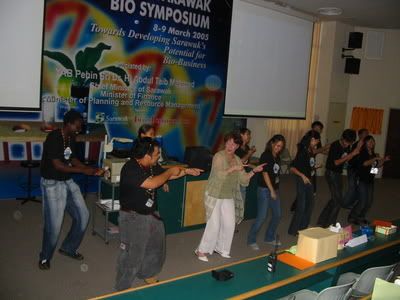 The
Dean
then gave her closing speech followed by selected students testimonial where each individual representing their school gave an overview of what they have experience over the past 3 day and how the mentors made it fun. Then it was the certificate and awards ceremony. Lastly was the presentation from the IT department showing a flash of all the events that occurred the part 3 days, it was a sentimental moment "Down memory lane!"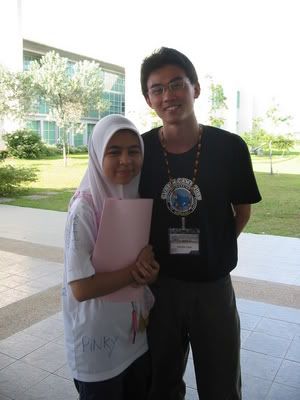 After all the formalities we all proceeded to the LT foyer for the photograph and autograph session. Numbers and email address were traded, shirts and folders signed, pictures were taken, hugs were given and good bye's said.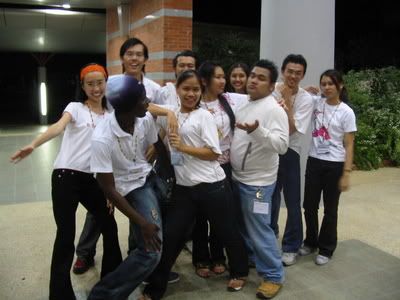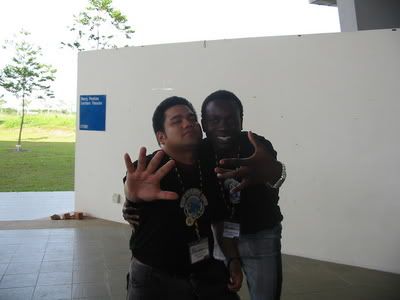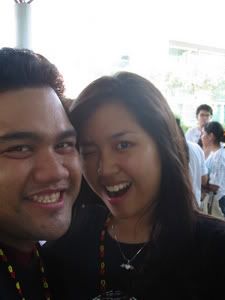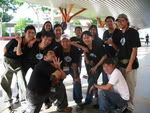 Special Thank you's
:
I would like to take this opportunity to say thank you to the following, with out them Curtin Camp 05' would not have been a success.
Mr. Abel Nelson Nang
(Chairperson of Curtin Camp 05'), for your undying belief and tolerance in all of us. With out your guidance we all would be lost in the dark.
Mentors of Curtin Camp 05',Zack
: Thank you for your determination and helping me make the events run smoother.
Melanie
: Thank you for your determination, constant and ever ready smile, and help and support.
Roger
: Thank you for handling the games and telematch, you have managed and handled the games alone, for lack of better words…WOW! On a different note…turn and look left "
Ohhh
!", turn and look right "
Ohhh
!" …*
Pruuuuuuut
!* turn and look left "
Ohhh
!" turn and look right "
Ohhh
!"
Wisdom
: Thank you for showing us how to dance with style. And your mc'ing is entertaining. You da man!
Pamela
: Thank you for your support and willingness to make this event a great success.
In addition all the fun jokes and quirks from the beginning…The
Pretties Mentor
!
Hiew
: Thank you for your support and help, you are a fresh breeze that liven the atmosphere. From the quite you to the open and expressive you…
Kimberly
: Thank you for teaching us how to jive. Cried like a child, *
Ngeeeeeee
*
Guan Thai
(GT): Thank you for your support and commitment. The man of little words, but you action speaks louder and you are a testament to the quote 'actions speaks louder then words'.
Cheryl
: Thank you for your determination and commitment. Soft yet strong.
Genesis
: Thank you for you determination and your ever playful nature.
Jordan: Genesis's friend... Thank you for your help and support... hopefully in the future that you will be able to help ous with future events. Looking forward to working with you.
IT Department
, for helping set the PA systems and preparing the computers.
With out you guys' the Curtin Camp 05' would no have been a great success.