It's that time where high school students are in the middle of their school year, University students are finishing their mid-term exams and cram to hand in their assignments. On the other hand there is the lighter and festive side of May, the arrival of Gawai festival and when Miri became a city or May fest! It is now 4 years since Miri became a City and in conjunction to that the Sarawak Tourism Board (hence forth know as STB) holds an annual musical event… Miri International Jazz Festival. MIJF is Miri's reply to Kuchings' similar prestige's event - Rainforest Musical Festival that happen in the month of June.
Since the beginning till the present of MIJF, I have been an active volunteer member as a Schelpper (Jewish word for helper).
This year round MIJF's musical line up for the lack of better words …AWESOME! We had bands from all corners of the world. Japan, Canada, Africa, Australia, Unite Kingdom, France and not forgetting your own talents from the hosting country, Malaysia.
Day 1
Opening act was by the local band 'Double Take'.

Vocalist Mia Palencia was like one of the female blues singers from down south in North America (without the southern thick accent)- powerful, clear, and entrancing.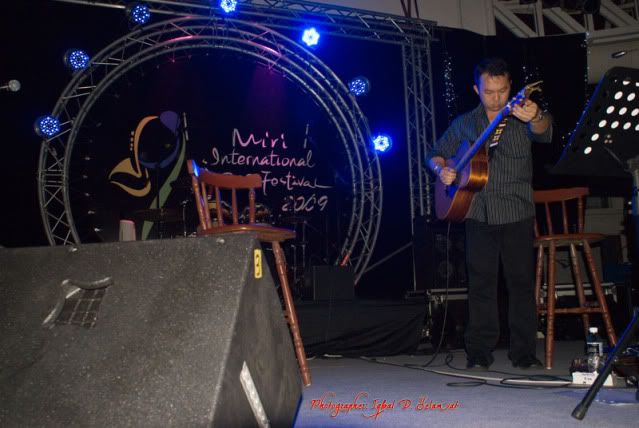 With her stage partner Roger Wang - guitarist, jazz plucking wizardry to an almost mind-numbing complexity yet melodic tune, these two complement each other so well and I admit that they are among the best acoustic duets that I have heard thus far. Unfortunately I was not able to stay long back stage, Schelpper duties. None the less the over powering vocals from her poured out from the pavilion and on to ParkCity Everly Hotels' ground, boosted by the extra speakers on the hotel grounds, I dance in tune to their beat while carry on with my Schelpper duties especially their final song a jazz adaptation of Michael Jackson's – man in the mirror, which got me and my colleagues singing along.
A brief interlude, after Double take's set, and a guest DJ from Aussi performed her disk jockey skills for the crowd with a mixture of electronic and house tunes which kept the party alive and grooving!
Bombay Baja Brass Band from the United Kingdom of Britain started their set from the hotel ground and made their way to the pavilion, like an Indian wedding announcing the arrival of the bride (or was it the grooms…pardon my ignorance, I am not well verse in Indian traditional weddings). Playing a number of jazz tunes with a twist…incorporating popular Indian melodies into the mix giving it a Bhangra and Punjabi jive. Earlier in the afternoon, the Bombay Baja Brass Band played with Chung Hua High School brass band.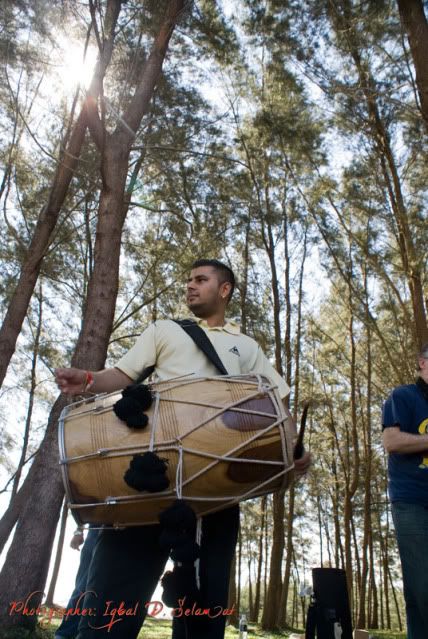 Learning, teaching and playing along with them Bombay Baja Brass band tooting and drum in tune with the local band.
Next in queue on the play list is 'Step in Time' from the Kingdom of the rising sun - Japan, lead by the International renowned Shakuhachi (Japanese bamboo flute) player and innovator John Kaizan Neptune.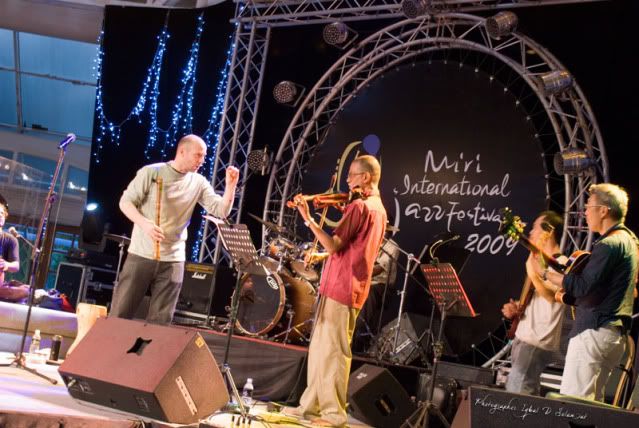 Those who had been to Japan or are interested in their culture and music will know who John Kaizan is, and among them was here in Miri, one of whom is a volunteer for MIJF as a gatekeeper – Janis . When she saw John at the first sound check on Thursday, she went all bubbly and bug-eye over the shakuhachi on stage, although she tried to keep cool and collected it was evident in her eyes,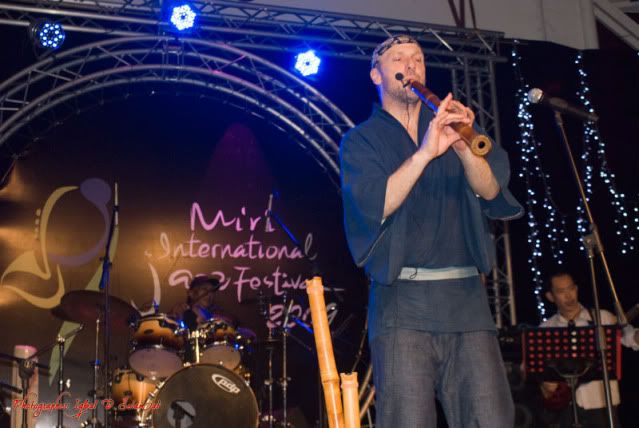 I was really funny to see. She turn to me and begged ask me to take photos of the shakuhachi and of John.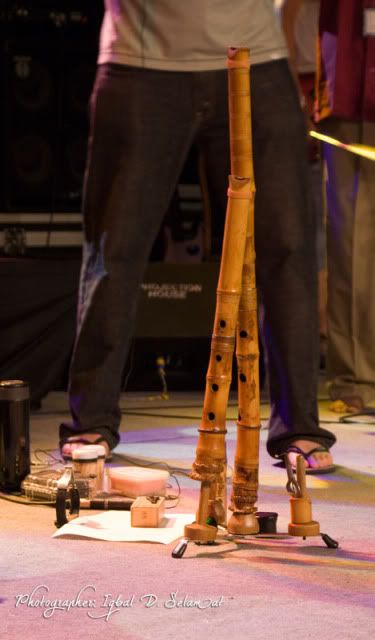 Step in time consists of a nutty Indian drummer, a jazzed guitarist, a reserved looking yet expressive violinist, a cool-calm-collected funk-in bass player and a drummer that tore down the house with his solo segment! Unfortunately I could not get a got photo of the drummer --_--
Final for Day 1 but not the last for MIJF was Alamode!
From Sydney, Australian they are a band of merry misfits and putting them as the finalist for day 1 was awesome…props to the organizing committee.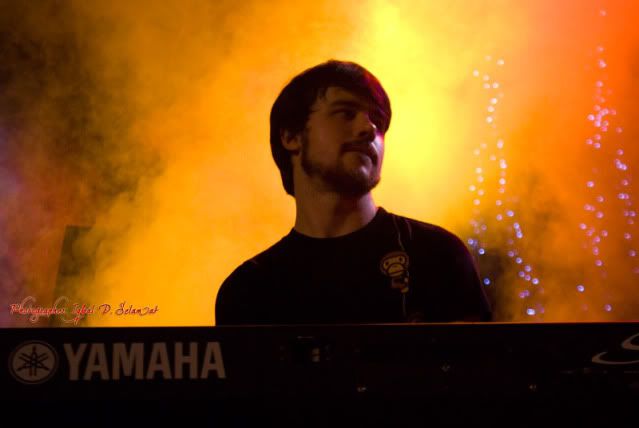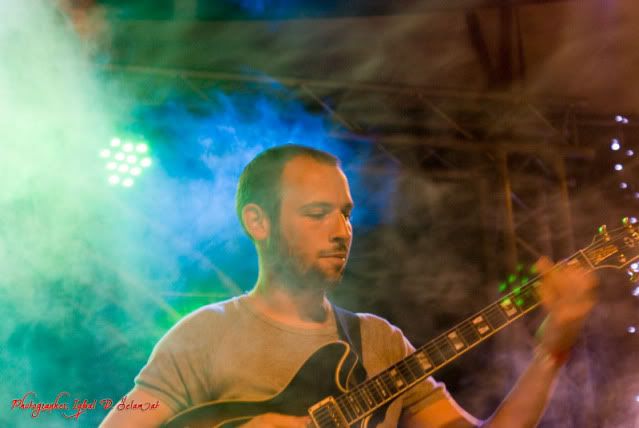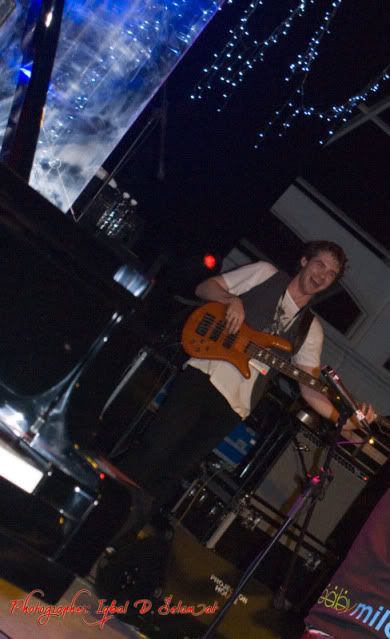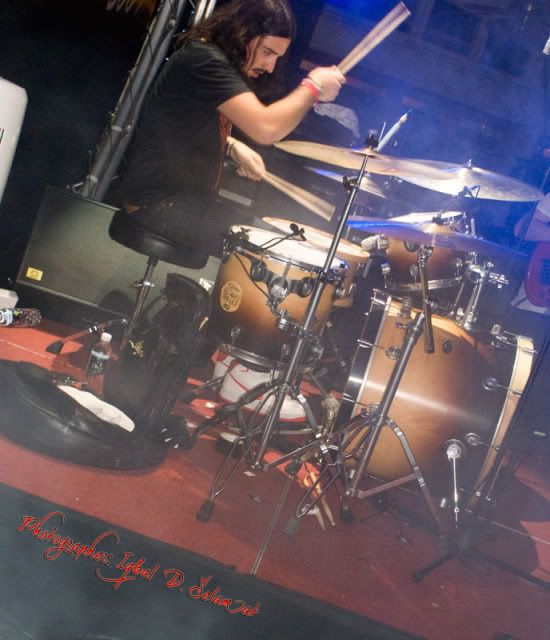 If I was asked to describe ALAMODE in 5 words this would be it…Playful, entertaining, rich, soulful, and original.

The night ended on a high note.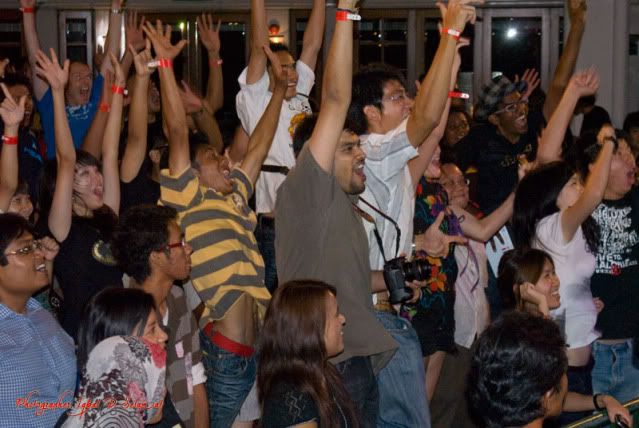 to be continued