Today has been one of those useless days that start off slow then it picks up and becomes one of those days that I enjoyed and cherish, here is my account of the day…

The day started off late… like any other day I wake up to the sun shining into my room from my bared sliding windows covered by brown flowery drapes, not by choice what when I moved in to this semidetached bungalow, I was awoken by my cell calling me out "Master, I have mail for you!" It was a voice massage from one of the staff members in Curtin wanting to talk about the weekend plans for Abel's birthday get together. Got out of bed and did the hygienic procedures and cleaned all my nooks and canines. Went to my fridge to get a form of breakfast, what ever I was able to find that I didn't have to warm up to eat…as I was heading back in to my room, there lay Lionel on my 3 over sized cushion a sleep; he came over the day before to watch the first season of the series Lost with me. Anyway I passed my time by typing an article for my future bloggings. It was close to 2 in the afternoon when we decided to head out and get lunch…or breakfast, then headed to campus to use the FREE internet…

Earlier in the day I massaged Kimmy if she wanted to go swim, felt like I needed to have some exercise. She replied later to confirm that she wanted to…now that her exams were done she was free to go and do almost anything… So, time when by and came close to when I had to pick Kimmy up. Got to her, picked her and made our wait to the public pool at the "City Fan" (look up in Miri and places in Miri). We swam for over an hour or more. She had plans to go to a friend's house for BBQ that evening and another friend of hers was to pick her up from the public pool around 8.00pm.

It was around 7.15pm that she decided to get out of the pool and go check her cell phone if she had any massages from her friends about that evening BBQ, if there were any changes in plans. She was about to swim to wards the steps to get out, then I told her there is an easier way to get out of the pool. Lift, twist and sit, simple and she got it on the first try…

I guess I was too fat when my friend tried to teach me

…anyway as she got up and made her way to the table I turned to go for another swim. She slipped, twisted her ankle and fell with a 'Thud!' I turned back and saw her on the floor clutching her right ankle. I got out of the pool as fluid as I could with all my excess adipose tissue and made my way to here as fast as I could. I could see that she was in pain, tears streaming down her cheeks while clutching her right ankle. She told me that when she twisted her ankle she heard a crack…I looked at her ankle and I saw that her ankle was swelling up and fast. We remained on the pool side floor for about 8 minutes before I helped her to her feet and made out way to a chair near by. She sat and I covered her with her towel and took a look at her swelling ankle…it really looked like she broke her ankle cause it looked like her ankle bone was pushing against her skin, but I knew it was not the case. She made her way to the ladies changing room and change so that I could send her to the nearest hospital, M.C.M.C. (Miri City Medical Centre).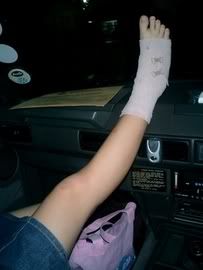 We arrived at the hospital with in 15 minutes, helped her into the entrance and the front desk to get her details down. This is not her first time here at the hospital, a year a go she had a similar incident. The doctor that she was about to see was the same doc from a year ago…What she told me was that he had some trouble communicating in English…he was Chinese. Anyway I brought a wheel chair for Kimmy to use, and wheel her to the doctor…This is my 1st time to wheel someone in a wheel chair… he he he it was fun… got to play driver, except that I had to worry about knocking Kimmy's ankle on the door sides… The doctor that we meet what was a bit 'sot' (meaning unbalance)…He asked the most redundant questions that a person of his standard in the society of doctors could ask, or maybe it was just his limited use of the English language…at one point of the interview with him, he the doctor referred to Kimmy's condition in the most scientific terms her heart is the 'water pump' and the internal bleeding is referred to as the 'broken pipe'… SOT! .... good analogy but none the less he is a DOCTOR! *

Slaps head, shakes head and Sigh!

*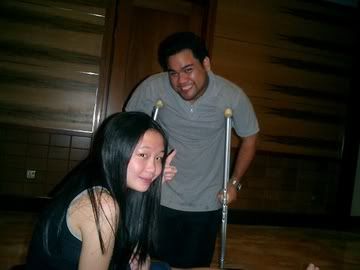 A couple of minutes when by, the adjustments of Kimmy's crutches, collection of her pain killers (more sleeping pills then pain killers) and we left to head back to campus to collect A shoe. Reason being that she went our swimming session at the public with wooden clogs. So we drove all the way back to campus to get her single shoe. As she didn't want to go back and just bum around the hostel, so we went for dinner at Fratinies near 'Bulatan' round about. Had a good time there, my long time friend the head manager for all the branches of Fratinies in Brunei and Miri. He helped a lot to boost Kimmy's mood. He specially made pasta for her…Big up to you J! And thanks for the ice cream it was Mm mm good!

The day ended after picking up a friend, Michelle at a friends house and headed back to Lakeside apartments on campus.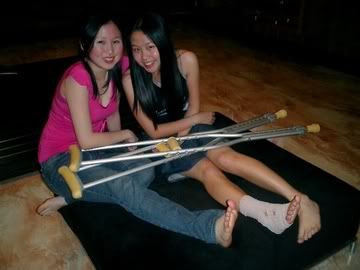 Dont get me wrong, not that because Kimmy's ankle got twisted this day became memorable... it became memorable because all the things that happend before, during and after the incident and all the little things too. I am glad that i could help out and be there for Kimmy. I wish the best to Kimmy's ankle and that it will heal soon, and your holiday will be filled with fun. Thank you for the memorable time we had and dinner during the November rain.



SomeBaL