It has been over due that I enter some sort of entire into my blogspot…And thus what better then to enter a new chapter for the beginning of a New Year, 2005. Thus the following events are preludes and after accounts prior to the celebration of the not-so-well-planned New Year which began along more-or-less the line of…
Captains Log:
December, Tuesday 28th 2004
:
"Mother, me and a bunch of my buds are planning to stay out for new years…and I was thinking that instead of spending hundreds of dollars (Br$) to stay at a expensive, over priced hotel (in the background someone squeaked "Empire!"…) why not we use the Kota Batu…it's not being rented at the moment right…

" And after much persuasion and hints she gave into my demands, which were three days and two nights (someone yelled "Yahoo!" and did a little dance of celebration.) Brilliant, I have the whole house for myself and my buds…


Brief introduction: The person doing the little dance of victory is my cousin that is currently studying in Auckland University of Technology (AUT), New Zealand, who came back for the semester holidays. RoZan or known as Ronin.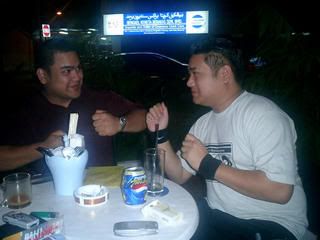 [Above: SomeBaL & Ronin]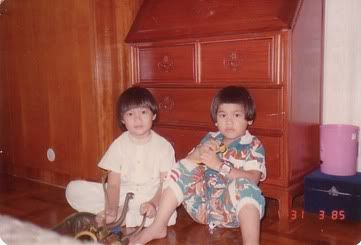 [Above: SomeBaL & Ronin as kids]
December, Friday 31st 2004, Day 1:
The day arrived and started to prepare my clothing's and other little things like drinks. As the day progressed I got more and more excited about the whole gathering. Here is the plan for the day:

Afternoon: go to Kota Batu house and Hoover (vacuum) the inside of the house and clean the garden with the aid of my parents.
Evening
: Wait for
Zan
to come to the Serusop house then head to Kota Batu house and drop off our things then head to Tutong for a family BBQ. Tutong is about 35 minutes drive from Bandar. Added information Tutong is my home town. After the BBQ, head back down to Kota Batu house and meet the gang…and party all night!

-----------------------------------------------------
Here is a close description of how the day went.
11 am, my parents and myself when to Kota Batu house first to clean and vacuum the house and sweep the garden. Approximate 5.30pm I head back to my home in Serusop to collect my clothing's and to take a much needed shower. Around 7pm,
Zan
arrived at the Serusop house.
Zan
informed me that we are to do a small errand to do right after the BBQ with the family, which was all good. And after completing a burning session of a CD full of mp3's for the car ride. 7.30pm,
Zan
and I headed to Kota Batu house to drop off our things then head to Tutong for a family BBQ and to meet our aunts and uncles and most importantly to see '
THE DON
"…my grandfather. Took us only 15 minutes to arrive to my grandfathers crib.

Several plates and a stuffed belly later went to do the errand. The errand was to follow Zan's dad and his friend (Mr. S) to Mr. S's house and carry his stuffs to Zan's dad's house. So we left 'The Don's' house and followed uncle and Mr. S behind, this was approximately 10.30pm…all good! Got to the house and there was a lot of 'stuffs' to load… two cars full and numerous massages and miss-calls later…time check was 11.45pm…

we didn't realized that it was so close to midnight…and we have not gone to Zan's house to store the stuffs yet. So with heavy hearts we left Mr. S's house and headed to Zan's house to drop it over there. On the road, half was to Zan's house; we looked at each other…shook hands and wished each other happy new year.

January, Saturday 1st 2005, Day 2
:
I called my parents that were still at the BBQ in Tutong to wish them and the rest of the family a happy new year. Once the errand of 'manual labor' was at an end we headed for Kota Batu finally. Covered with perspiration from all the lifting, we decided to go shirt-less, open windowed, slow drive to Kota Batu. Just imagine what was going through people's heads when they drove by or was by our side at the traffic lights…



Soon as we arrived at Kota Batu, one of my good friend's cars was parked outside the locked gates waiting to be let in. It was Ikrum and Yani (his woman), waiting for us since 11.40pm… I felt really bad naturally having him and his woman wait outside the gate in their car for us after we told them that we be there around 11.45pm.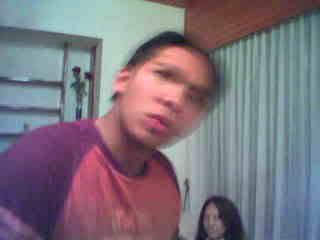 [Freaky picture ain't it]
They came in and stretched their legs and we told them the account what happen prior to meeting them here. Moments later the rest of the gang arrived at the house. Shaq, Joe and Rozman all in one cute white Ford Focus. Welcome them in, wished them a happy new year and apologized for not being able to meet up earlier. And so we, meaning Zan and myself re-told the story what had happened that evening.


As the night progressed Joe had to go home because he actually has work that morning…

thus Shaq and Rozman was to follow him back too as Joe was the one that brought them to my place. And then there were four. We decided to go for a swim. Mind you this was at 2am New Years Day. Ikrum, Zan and I got into the pool and Yani was left dry (female reasons…). Around 3.10am Yani got a msg from here dad asking her when was she coming back home? Ikrum dried off and left after that. Then it was just me and Zan again. We stayed in the pool 40 minutes more. Then went and took a shower and went for a drive. Deciding that we want to watch the first sunrise we head to the east side of Brunei to Muara port. But as it was still too early to see the sun rise we stopped at a beach called 'Pantai Meragang' (my favorite place to be day or night). We drove on to the sand and headed to where there were no street lights. Parked the car, and climbed onto the roof of my red Rover and started to star-gaze. Luckily that night the sky was almost cloud-less and the moon was almost full, it glowed so bright that I could see the surroundings. The stars too were at there brightest. We saw a satellite in orbit, zooming across the sky. Zan was lucky enough to catch a glimpse of a shooting star. It was coming close to 6am, and the sky to the east was starting to turn in to a mixture of vivid colors of blue and red. Rolled off the roof of my car, started the engine and made our way to the eastern most point at Muara beach. There we walk to the end of a stone jetty and sat there watching the sun slowly rise over South China Sea and the misted blue mountains in the far yonder. O what a beautiful sunrise. If only I have someone special to share that moment with… of the opposite sex!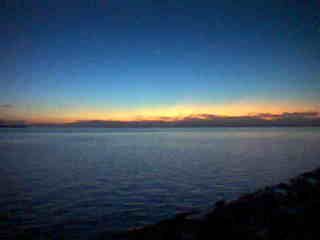 [Above: SomeBaL looking at the horizon for the first glimpse of 2005 sun.]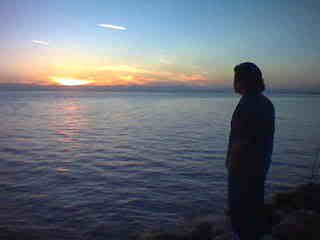 [Above: Zan looking onto the horizon.]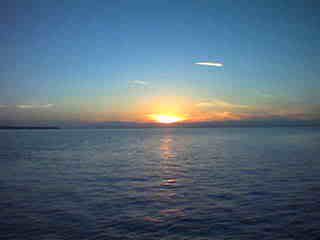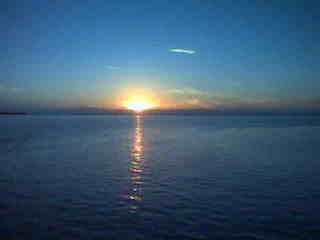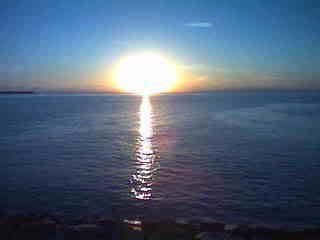 One would go on and find the most perfect things in the world which few have the privilege to stumble upon, and I find myself bless able to find such bliss in the early evening and morning of a new year.
Quote: Iqbal Selamat, January 01, 2005
Once the sun unleashed its warm rays and its fierce shine, we headed for cover of an Indian restaurant where Zan ordered one roti talur (Indian fluffy bread with egg) and I, three roti kosong (Indian fluffy bread) for breakfast. After the filling breakfast, we decided to head back to Kota Batu house to get much needed sleep; time now is 7.00am.

I woke up roughly around 5.30pm, realizing that the whole day has passed us by. Took a shower, got dressed and when to watch the tele (television) and see what happened last night. Apparently there were numerous raids on houses and café thought to be selling contraband drinks and a landslide that left a family home-less at the beginning of 2005…that gotta suck big time!

Zan woke up moments later and joined me upstairs in the living room and watch some Brunei tele before we set out again to meet the gang at Taurean café. The guys slowly drifted in as each had other things to do before meeting up with us. First one the seen was Shaq, then Zan and I, Joe, Ikrum then last was Rozman. 10 pm something, and we all left Taurean café and went for a cruise around town. 5 cars in total cruised in one line following Shaq's car. As Zan had to go back to his house to collect his new 'sim card number', we all convoyed to his house. After that was done, we proceeded to the stadium parking lot to watch car illegally drag race. There were tones of people…suited up Honda, Mazda, Skyline, Silvia, R Type Civics, R34 Skyline, Evolution (6,7,8)

, Subaru WRX STI and custom car with mad sound systems

were there as if it were a convention for Import Tuners.
We got tired after a while of all the noise and as it was starting to drizzle we made our move back to the Kota Batu house to go for a dip in the pool. It was almost 1am when we got in to the pool and stayed there till almost 2.30am ++. It started to pour heavily, but we didn't care. After the swim, some how I was hungry (not a surprise

...

) and the others too conveyed that they too were hungry. Out of six of us, two (Rozman and Ikrum) op-ed to stay in the house and catch some sleep while the rest (Shaq, Joe, Zan and I) went to get something to bite. We drove around for sometime looking for a place that was open at 3 in the morning. As we past the pasar malam (night market, normally closes at 1am) thinking that the stalls there were all closed, Shaq pointed out that there were still people loitering around there…and decided to give it a chance…Ahhhhhh food….a burger stall was still open and there were some people eating there. We ordered our food, had some of it there and took the rest away. As we ate first and paid later, Joe acutely paid for all our bills… Thanks Joe

. We headed back to the house for some sleep. All of us crashed. Shaq and Ikrum took the 2nd floor room at the corner; Joe took the room next to Shaq's; I slept in the master bedroom and while Zan and Rozman stayed up talking and playing the guitar.

January, Sunday 2nd 2005, Day 3:

I awoke to the voice to Joe complaining that he had to work on a Sunday…

… I looked up; saw Joe stomped into bath room

. While Ikrum was dressing up in his work clothing…Ehhhh, what did I miss? Apparently Ikrum had work that afternoon (he's a chef, a good one too.) Joe got out of the bath room and I ask him what's up? He explained that he got a call to come to work this morning as he is on standby 247.

Just as he finished explaining it to me, Shaq came in and Joe's phone rang. It was his colleague from work

. Hang up his phone with a smile, said "I don't have to go to work anymore!" false alarm

. Since we were all up already we had brunch (breakfast +lunch) at the only Mc Donald joint in Brunei.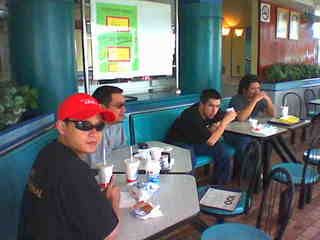 [Joe, Shaq, Rozman & Zan]

After brunch we walked for a bit and looked at the DVD's in the stores, and then we headed our separate ways, back to respective houses. An anticlimax to the end of the 3 days 2 nights New Year 2005, but it had to happen.

Thanks to Yani (Ikrum's woman) for coming on New Years Eve/Day.
Thanks to Shaq, Joe, Ikrum, Rozman and Zan for staying at the Kota Batu house it was a blast.


Sorry to all for having you to celebrate New Years in your cars!
Joe's car: Joe, Shaq and Rozman.
Ikrum's car: Ikrum and Yani
Iqbal's car: Zan and Iqbal


Missed: Carol (in Australia

) and Scuba (Sick…
) Wish you where there to celebrate with us.

It was a different beginning to a new year, it was different.


Happy New Year 2005



End Captains Log.