Here is a long overdued article about prom... never got to finish it till now... hope you enjoy... I may add more pictures If there is any mistakes do drop me a msg.
SomeBaL
------------------------------------------------------------------------------------------------

Prom, Grand Ball, Dance Formal how ever you would like to call… it aught to be a grand thing to a high school, college and university student. It is the only occasion where one as a student is able to dress up all fancy, aside from having to dress up for a formal presentation. With hair done up, props, accessories and the "

bling-bling

" effect to enhance your appearance and impress others. This is the only occasion that I believe that as a student, one is able to dress up for an event and have fun at the same time.

It's also a good opportunity for those with a creative mind to put their grey-matter to work and think up a storm for their prom dress or costume. Girls get to get together and fuss what kind of dress they would want to go in: mid-cut, long dress, bear back, low cut or nothing at all… (that would be something to see at a prom!)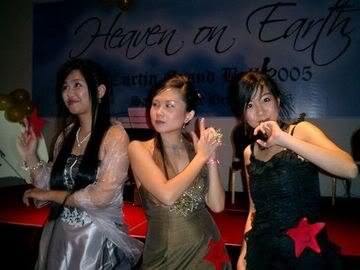 Guys tend to have it much easier time at choosing what to wear for the evening. For those lazy arses who could not be bothered to even get off their sorry arses to reach for the remote to change the channels, can just wear their previous suit or formal dress that they used to presentation or for those bums that have extra cash to spend, can go to a bridal gallery shop and rent a tux for the night. Then there are those that take the initiative to look for something that is extraordinary and stand out in the crowd like a single oversized pimple on your forehead waiting to be popped! Depending on the theme of the ball one could dress according to the theme.

This year (2005) Curtin Miri's Prom night theme is "

Heaven on Earth

" thought up by this year's student council: Bennet (President) and prom council member's committee. Following the theme I choose and earthy feel to my dress code for this prom. I decided to tribal…none of the indigenous people dress like loin cloth but a simple and modern, I repeat MODERN look. It took me roughly about 2 days to actually find what I have in mind in Miri town (commonly known as pasar to the locals). There was this one shop in Imperial mall on the 2nd floor that has some tribal clothing that I looked at the liked almost immediately. I ended up buying 2 different shirts; one is a short sleeved button up collared shirt with a column rope like designs on the right hand side. The other is a long-sleeved button up three quarter collar shirt; the buttons is made of wood and shaped as a single tactical. The way this outfit is to be worn is un-tucked, its length is from my shoulder till just past my groin line by 2 inches. Both are of the same neutral colour, cream colour with a hint of brown… (there is a word to describe the colour I am trying to illustrate but the spelling eludes my finger tips). Getting back to the point, I chose the latter outfit to the 05' Prom "

Heaven on Earth

" with white pants. Accessories that I wore with the costume were an Iban designed bracelet made with cow bones this was on my right hand. To accompany and complement the bracelet was a cow bone necklace that I got from my cousin when he came back for the holidays from New Zealand (Big up to Zan!) There is a meaning to the necklace; I suggest you look up or ask your Maori friends the meaning of "Koru". Anyways, I was dress up simple yet different and unique, and I liked it. I did not sweat (material was thin & no over coat to wear), did not have to spend hundreds of RM's to get what I wanted, and it fitted the theme.



Event day:

The ball was held at the newly renovated hotel the Marriott Resort and SPA Hotel, formerly known as Rihga Royal Hotel, at the Ballroom at the base of the hotel. As it was at a hotel, a number of us (students) decided to stay over night. I got to the hotel roughly around noon and had sometime to myself for some R&R, had a warn bubble bath (I have not had a bubble bath in many years), read a book while in the tub. Then got my gear and outfit for the night event ready…iron my pants and tribal shirt and polish my shoes. Then I had lots of time to watch the tele and completed an assignment that was due the next week. By seven in the evening, I was ready and fitted with all accessories for that evening. I went over to one of my friend's room to see if they were ready to go. Had a photo fest in the room while waiting for the some of the girls to finish powering their nose.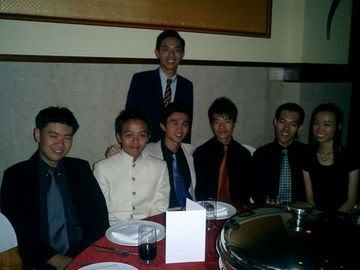 As I am part of the Curtin Volunteers! we had two tables for our self, behind the VIP's table thanks to Serena and Bennet… (big up to you!)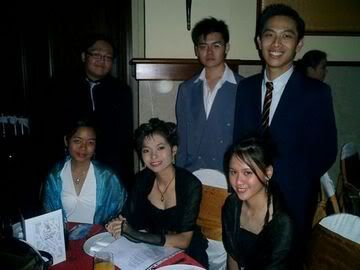 At attendance was our dean, Professor Dr. Ruth Marquis and her spouse, Head of Teaching and Learning Associate Professor Dr. Rosslyn Albon, Head of School of Engineering Dr. Chua Han Bing and Public Relation Officer Mr. Abel Nelson Nang.


The event went as follows, speech from the Student Council president followed by our dean and a grand toast by all at attendance dinner was served soon after.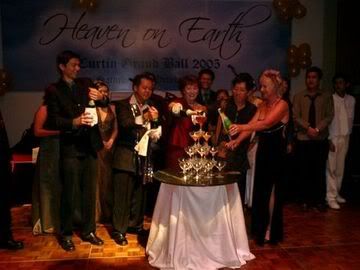 At the same music was performed by Curtin Music Club followed by Azie featuring Desmon. There was a break and another performance from our very own Student Council President Bennet and sang us two song with the aid of Aylwin on guitar, next up was our PR officer of Curtin, Abel (and also and advisor to the Student Council 05', and various clubs in Curtin and our independent organization Curtin Volunteers!)…I got a friend to dance a slow number with while Abel sang his three songs aided by Dennis on the keyboard whom we got to know through Curtin Camp 05' last semester. Last to perform was Bay Yeo our future Student Council President for 2006. Just before dinner ended, the time came to pick our Prom King and Queen for 05' hosted by Nozie Minority Renee and VJ.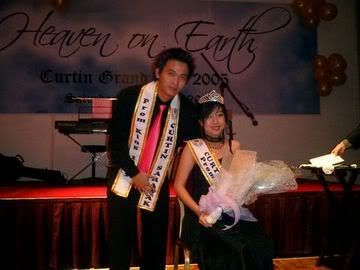 To cut the story short, the winners were Daryll How our very own Curtin Volunteer! President and Lee Quin (I hope that is the right spelling?) from Brunei…(Brunei baby!).

After the crowning of our royal prom couple they kick started the dance session with a slow dance.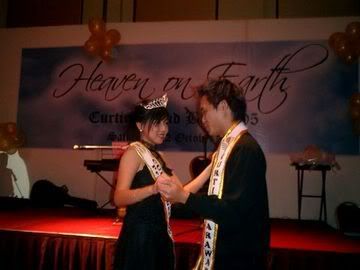 With no warning the DJ picked up the tempo to dance and some R&B and Hip Hop tracks. Honestly, prom is all about sentimental moments and slow dance and with the theme "

Heaven on Earth

" that should have been the case. Well I can't win them all…but then again since when I did I ever win…*eye brow rise*

In the end I don't think I could call this a Grand Ball… the ending was more of a clubbers night out…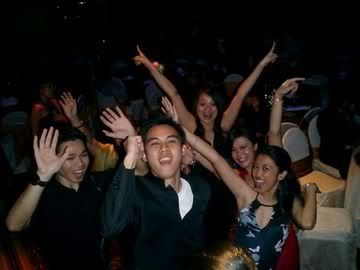 To sum it all, this year's Ball was simple…I didn't not have a date this time maybe that effected my though patters on this matter. Had some memorable memories that I whole dear to me and some not so dear (no details there). If I had the chance to change some things I would have change just one thing…that I would leave to you to guess.

I would like to say thanks to the Student Council of 05' of thinking up the concept of the theme "

Heaven on Earth

"…condos to you and big up!



SomeBaL