Every year the student community would nominate a selected group of current student to represent their voice to the management. This years council (05') lead by Bennet did a wonderful job in voicing the students matters to the management of Curtin Sarawak and worked hand in hand with the management to make it a better environment for all student to study in. Not only bring student matters to the management the Council also organize events with in campus and out of campus grounds hand in hand with other clubs organization such as the successful annual Curtin Carnival 05' "

Celebrate U!

" and the annual Grand Ball "

Heaven on Earth

" hosted at the Marriott Resort and SPA Hotel 2005.

The time has come to elect a new council for next year (06'). This time round I decided to actually try run for council as an ordinary member. If I got on that council that would be great, boost my confident level a tad higher and if I didn't get on it would be no loss, my pride would be dented a slightly but non the less I would still go on my merry way. So on the last day to submit my registration form as a independent runner was handed in co-signed by Serena (Ordinary committee member of Student Council 05') to Student services and paid rm10 for registration fee. Talk about impromptu decision … And so I was a running to be a council member for next year. Next day I was approached by Bay to join his party which is CUSP (Curtin United Student Party) which has won and stayed in office for the previous four years. I agreed and I was no longer a independent runner, and was running under CUSP2. The next week was the beginning the campaign for the parties and independent runners. This year the parties that were running were CUSP, CUSP2 and SFC (Student for Change whom mainly comprised of international students), the independent runners were Izzah and Subha. The campaign went on for about a week and the week after that was the time for the community of Curtin Sarawak to vote for who they would want to be on council.

In the end, after counting the ballads and through the system of election from Curtin Perth that is similarly used to vote for the Prime Minister position and other important position, I was nominated in… numbing surprise hit me while I watch on the procedure of the nominating system continued…

I got on….

I would like to covey my congratulations to the individuals that got on the new Student Council for 2006. And my Thank you for the Student Council of 2005 for your full support.

Student Council Election
The result is out and here is the result.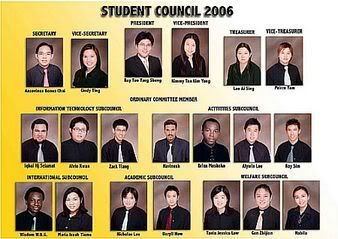 Student Council 06'



President
Yeo Yang Sheng, Bay

Vice President
Tan Kim Yong, Kimmy

Secretary
Ansovinus Bonus Chai

Vice Secretary
Ting Wei Chin, Cindy

Lee Ai Sing

Vice Treasurer
Pierre Yam Fai Lik

Ordinary Committee Member (OCM)
Tiang Kwong Wei, Zack
Havinesh Mahendran
How Tong Wei, Daryll
Iqbal Dato Haji Selamat
Kwan Tzen Yet, Alvin
Lai Fung Kiing, Tania Jessica
Lee Kuan Chee, Nicholas
Lee Yoon Seng, Aylwin
Wisdom Wencesious
Brian Mashoko
Dygku Siti Zarith Nabila
Maria Izzah R. Franco Tiama

Congrats to the new Student Council and thank you for your votes.
Our gratitude to the current Student Council for guiding our new Student Council.