This was almost write a year ago...wow can't believe that its been that long since i last blogged...Well here it is... a way overdue blog about my media trip to KL last year....
Recently, 20 media students from the school of business, Curtin University of technology Sarawak completed their journey to Malaysia's capital, lead by their lecture Mr. Mawi Tarip.
This trip consists of the student visiting key media areas in Malaysia. On the list of places to visit was Bernama, News Straits Times Press Group (NSTP), RTM, TV3, Astro and UiTM (University of Technology Mara)
First on the agenda was the visitation to Bernama, where we were brief on what Bernama does and showed there cooperate video. The presentation was lead by Datuk Azman Ujang editor-in-chief for Bernama. He advised the media students to
"

have good general knowledge in any background in whatever field that the students may pursue in the future.

"
Following the presentation, we were lead around Bernama office to key places such as the Image sector, video processing unit and the journalist room. On top of that, they were also shown how news was shot for Astro. Then we were then treated to lunch after the tour.
Next was the visitation to NSTP. Where we were shown NSTP's cooperate video and a short presentation about their facilities and the process of producing newspapers for Malaysia and neighbouring countries. Then questions and answers sections lead by Datuk Manja Ismail News Straight Times, Bertia Hairan, Metro Harian, and the Malay mail which unfortunately are only distributed in the Klang Valley area only.
After the visitation to NSTP, the media
students…ous… had an appointment at Astro, Shah Alam. Where they became the participating audience for the show "Top 10 Hits, Live" airing every Wednesday at 3pm on channel 16. Here the student viewed and learned first handed how to produce a show of its kind. We were aired on Wednesday the following week! (Added info...I won the 'most funkiest fan')

"At the back gates of Astro"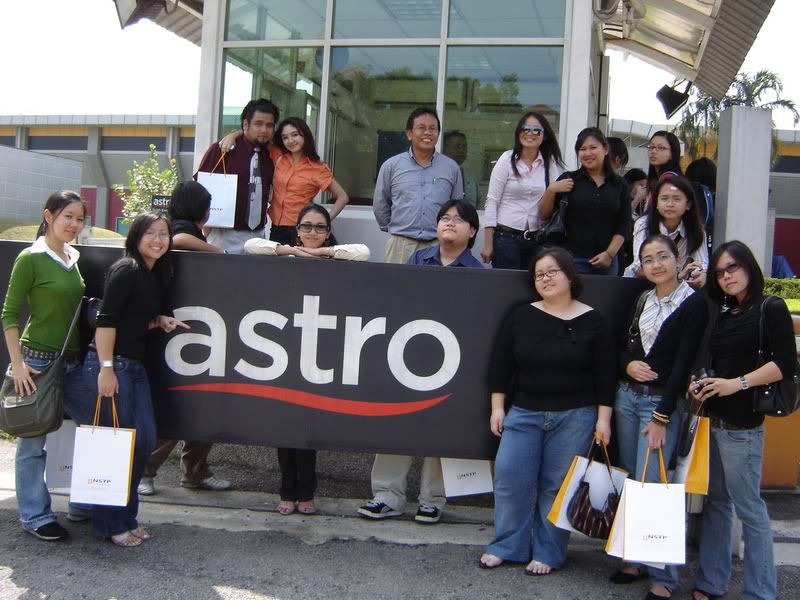 "Bella and Somebal"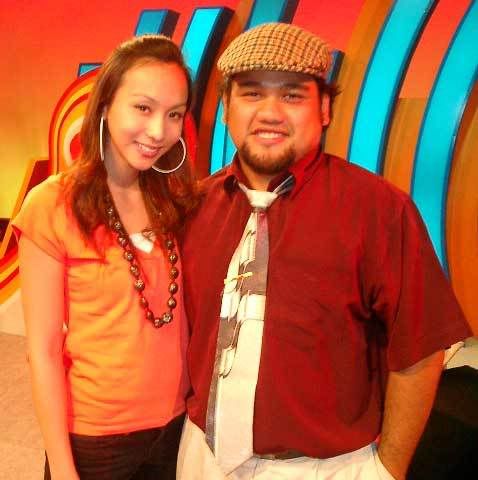 "A bunch of ous with the hosts on Top Hits live"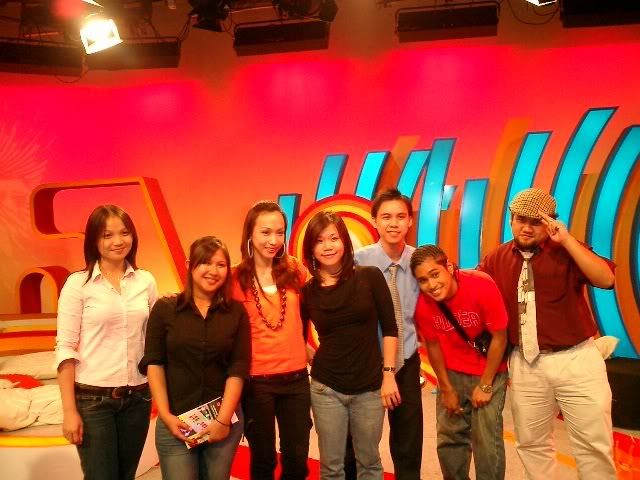 RTM, the national television and radio station, which is located at Ankasapuri, was next on the 20 media students' agenda [feels kind of wearied to talk about our self in third person view]. Here they were brought on tour around the facilities.
We manage to observe an interview that was being recorded in one of the television studios, and had a chat with Nigel Green (DJ Greenman) and Gary Ratnam (Dj Scamboy) of Traxx FM live on air.
After RTM, the next big television station in Malaysia was their target, TV3. The students were accordingly invited to watch and view the live recording of TV3's live show "Muzik-Muzik" that airs every Thursday at 4pm at one of their studio at Shah Alam. The visiting students were shown the process of what was going on and off stage through the producer's eyes and later were invited to take part in watching the program.
On our final day of visitation, we pay a visit to Curtin's rival 'in a friendly manner' University of Technology Mara, Shah Alam Selangor. The head of advertising programme, Mr. Khairuddin Othman, the media staff at UiTM and a few PR programme students warmly greeted us. After Mr. Khairuddin's presentation the visiting students was brought around to view UiTM's 3-camera studio that was recently completed, we were awed. Now why can't we have that back on campus...
It was and experience, that i would love to do again in the future...